Sutherland Shire Home Builders
BLUE BUILD
Sutherland Shire Home Builders
Blue Build provides on-hand builders to tackle whatever project you may have, including renovations, extensions, or completely new homes from the ground up. Click this link and get in contact today for more information, or simply call 1800 662 512.
Blue Build is a Sutherland Shire based Building company that services all of Sydney with our premium building services. We specialise in new homes and custom home build solutions. In addition to this, we are also experts in Home Renovations and extensions of all kinds. Our service is tailored to the needs of each client – you can come to us with your architectural drawings ready to go; or if you haven't got that far, we can explore your great ideas to improve your home and guide you through the process to get you started. If you want to learn more about us or get in touch we'd love to hear from you! You can contact us by clicking here and filling out a contact form. 
Sutherland Shire Home Builder Services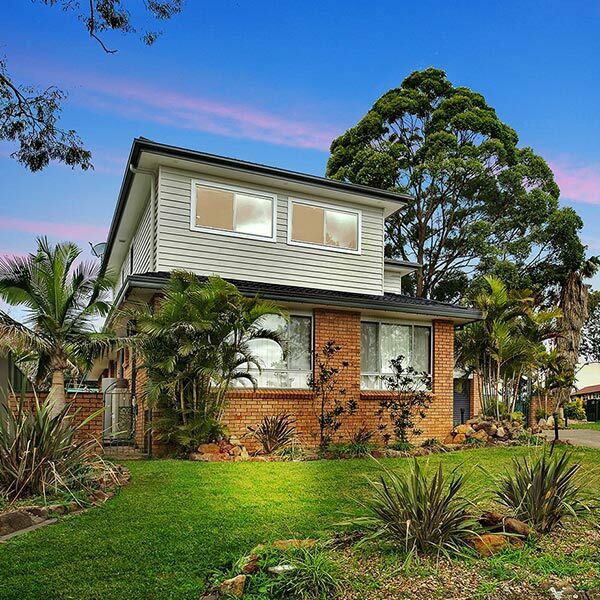 Sutherland Shire New Homes
Have you found the perfect block of land but have no idea where to start? We can help!
We work with all trades to build your dream Sutherland Shire home from start to finish. From the initial design all the way through to completion we take your stress away, but you will still have a foot in the door for all decision making. Knocking down in the Sutherland Shire? Don't get your hands dirty! We can take care of every detail ensuring a personalised experience.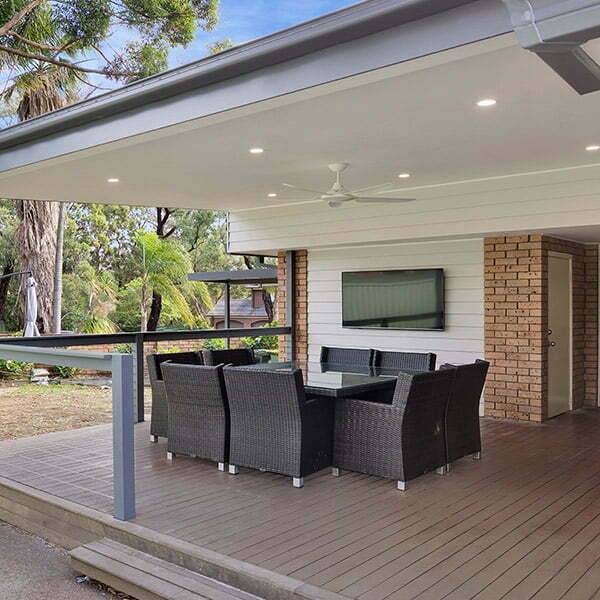 Sutherland Shire Home Extensions
Adding an extension to your Sutherland Shire home? Going up? Does your bathroom or kitchen need an update?
We can help with any extension requirements. Whether you're looking for a modern vibe or a classic design for your Sutherland Shire home, our work is of the highest standards. We aim for quality in every aspect of our building and keep the client involved every step of the way.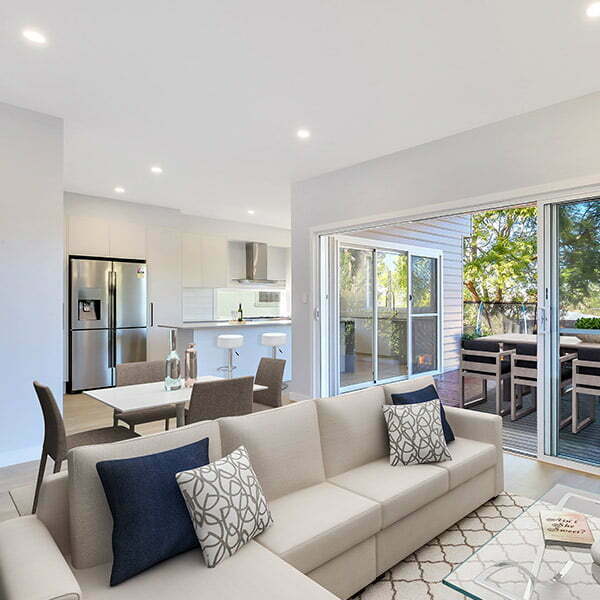 Sutherland Shire Home Renovations
Blue Build is your Sutherland Shire renovation specialists!
We design and build, transforming your house into everything you've dreamed of. We can help evaluate your current home and advise the available options to you. Blue Build ensures your Sutherland Shire home remodel is affordable to build, maintain and live within. We take pride in our ability to renovate homes with quality, precision and always making the client feel at home.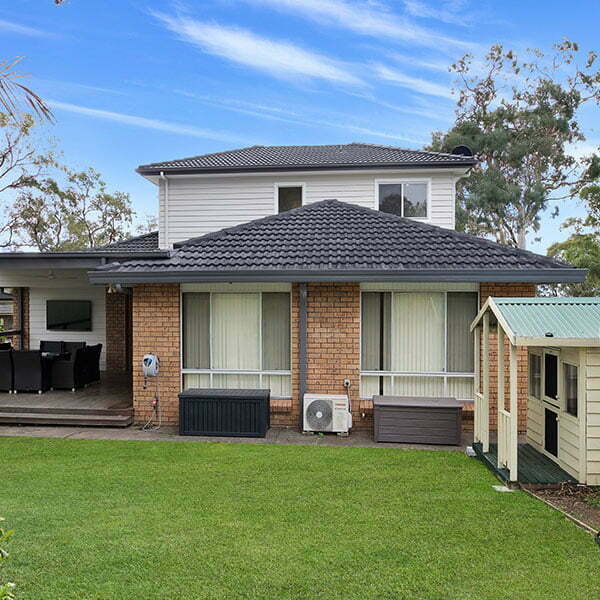 Sutherland Shire Custom Home Builds
Are you after something a little different? We love a challenge!
What makes Blue Build so special is our ability to give you exactly what you're wanting in your Sutherland Shire home, our number one priority is you. Satisfying your needs to help create your dream home. Think your custom design is asking too much? Think again. Blue Build expertly turns your unique vision into a reality, so your custom Sutherland Shire home is just waiting to be built!
Why Should You
Choose Blue Build?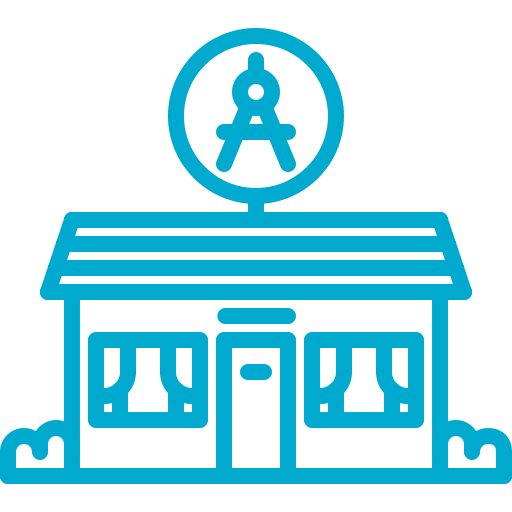 First and foremost, your vision is our number one priority, because, ultimately we want to build the home you've been dreaming of. If you'd like to make any changes, at any stage of the project, Blue Build will do our best to facilitate the request because we want you to be 100% satisfied with your Sutherland Shire home. Don't think a request is asking too much, this is your home we're talking about! So, we will endeavour to accommodate any and all wishes.

At Blue Build, we guarantee 100% transparency in communication and provide you with regular updates and site visits. We understand just how important it is for you to be able to contact your builders and discuss any concerns or queuries you may have about your Sutherland Shire home project, which is exactly why we're available for communication 24/7

We are builders dedicated to precision and quality, in other words, we won't settle for anything less than perfection! Blue Build only ever use third party trades that also guarantee the highest quality finishes to your Sutherland Shire homes. This ensures that whatever your request or custom-build solution, every aspect of your Sutherland Shire home will be as you imagined,
Recently completed homes in the Sutherland Shire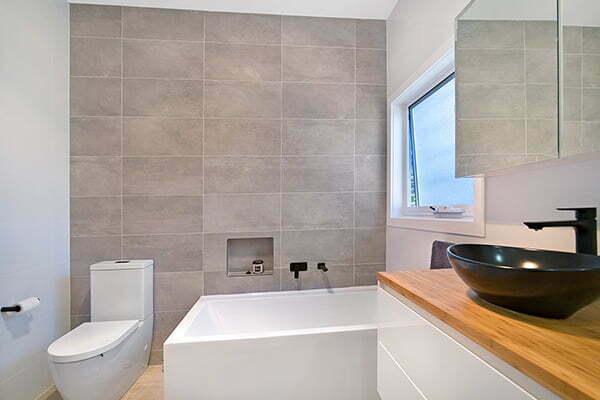 PROJECT TYPE
Second-Storey Home Extension in Jannali
Blue Build really enjoyed transforming this Jannali home via a second level home extension.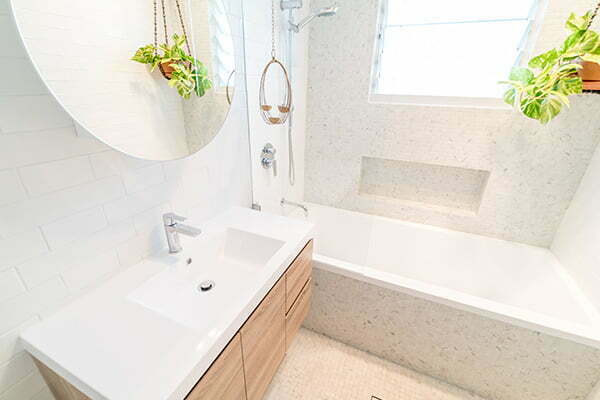 PROJECT TYPE
Bathroom Remodel in Kurnell
It is always great to work close to home! This bathroom renovation in Kurnell was a great local project.
Where are you
In The Building Process?

I want to build a home, but unsure where to start.

I have some ideas, but I'm unsure of the next step.

I already have plans and I'm looking for a builder.
Why you should renovate your Sutherland Shire home
1. Save The Cost Of Moving
If you truly love the Sutherland Shire, or you're in love with your home, it's much easier to renovate than to sell and buy another property in a different location. A renovation is a cost-effective option as opposed to buying a new property somewhere else. You'll avoid spending money on legal fees, stamp duty, agent's commission, and other expenses associated with buying and selling of property. You might discover that selling your Sutherland Shire house and buying a new one will cost you thousands of dollars. This is money that could've gone to home renovation activities that would have caused a lesser amount of money. However, it is important to ensure that whenever you are making home renovations, they are meant to create a lasting benefit to the family so that you avoid the necessity of moving to another house later. 
2. Better returns on investment property
If your intention is to sell your Sutherland Shire house, a home renovation can help you attract a greater profit. It can also mean that you'll attract more profit by charging higher rent if it is a rental property. For a home intended for sale, it is important to make renovations that will broaden its market appeal and therefore present value. If the intention is to attract higher rent, the renovations should involve coming up with designs that will make it more appealing to the tenants as opposed to home buyers.
3. Increase property value
For home renovations undertaken with the goal of attracting homebuyers, it should be well executed to accomplish that goal. By renovating your Sutherland Shire home, you will automatically be increasing its value so that it can become an excellent investment for your time and money. It's essential to speak with local real estate agents to get advice on features that homebuyers are mostly looking out for. You can manage to increase the value of your property by more than the cost you will spend renovating it. It's clear that home renovations can be used as a way of boosting your investments.
4. Restore former glory
We have all seen time again and again in the Sutherland Shire that old homes can transform into some of the most appealing structures if renovated. If a home was built a long time ago but features some amazing architectural designs, renovating it could reinstate its lost glory. We have all seen houses in the Sutherland Shire that were abandoned and looked horrible, being renovated and turn to structures worth millions of dollars. Even though old structures can present major challenges to designers, they can turn out to be incredible investments.
5. Make your home eco-friendly
Many people are renovating their Sutherland Shire homes so they can meet the needs of a green environment. There are modifications such as the installation of low-flow showerheads and taps that can make your home more eco-friendly. It's worth noting that today, different government agencies are supporting homeowners who are interested in making environmentally-friendly modifications to their Sutherland Shire homes. Although making these modifications can be costly at times, it is important to note that such costs will be recovered due to factors such as the reduction of energy-efficient appliances and designs.
6. Safety
After living in your house for years and years, there's very likely to be damage. One of the reasons why you would be interested in renovating your Sutherland Shire home would be to improve your safety. You do not want to be hurt by a falling roof or wall. Your safety and that of your family is paramount, and therefore every Sutherland Shire homeowner should make it the responsibility to ensure that renovations are done to their old houses, making your house a more secure living space.
7. Comfort
Feeling comfortable in your Sutherland Shire home is very important. You want to live in a place where you will always be looking forward to going back at the end of the day. Your home should be the best living space, and therefore renovations aimed at creating comfort are necessary. When a house is new, it is most likely that it will have the required features that will generate comfort. However, as it becomes old, the comfort will peel away, and you'll start desiring your previous home. Your comfort at home should be an essential factor that will push you into making house renovations.
EMMA & PAUL
Blue Build Experience
Tips before starting a house renovation
1. Stick to your plan and organise
 During the house renovation, it's important to stick to your plan and stay organised. Before it begins you should set a goal for the renovation, for example, increasing the house's value or turning it into your dream home. Staying organised is a vital part of the whole renovation process, even more so if you are living in the home during the remodel. Here are a few tips to help you keep on top of everything and stay organised:
Get ready for new living arrangements, whether you plan to live within the home during the renovation or if you are moving into a hotel, staying with friends or family.
Pack up any valuable items.
Ensure you clean and organise while you pack up.
Prepare for the dust by removing any rugs, curtains and covering up furniture
Communicate regularly with the contractors that you hire
Have a specific place for important documents that you want to keep, like contracts, construction agreements, receipts, etc.
2. Set your budget
When you are renovating your Sutherland Shire home, it can be hard to not dream too big and want to spend money you don't have. You should remember to be realistic and sensible with yourself about what you can afford and the cost of items you will need. Make sure you have some extra money reserved for any unexpected as you don't want to exceed your spending limit and then hit a snag that requires additional funding. It's ideal to anticipate spending an extra 20% on any surprises that may come up.
3. Keep your receipts
 Another important thing to do when renovating and keeping within a budget is to hang on to your receipts. These receipts can be handy in two ways:
When renovating you can often end up buying items that you don't end up using, however by keeping your receipts you can then return these items for a full refund without any hassle.
Receipts obviously are a great way to keep track of where your money is going.
4. Hire the right team
No matter whether you're adding an extension, going up a level, or if your bathroom or kitchen needs an update, Blue Build can help with all your renovating requirements in the Sutherland Shire. Whether you're looking for a modern feel or a classic design our work is of the highest standards. We aim for quality in every aspect of our building and keep the client involved every step of the way.
5. Follow the renovation steps
When remodelling your Sutherland Shire house or even just one room there are steps you can follow to help the renovation stay organised:
Demolition
Repair the exterior
Replace old plumbing
Replace HVAC, electrical and lighting
Add drywall
Paint
Install flooring and baseboards
Install cabinets, vanities, toilets, tubs, doors, shelves, etc
Install countertops
Wall features
Install appliances and hardware
Clean
Bring in furniture and personal belongings
6. Stay Positive
Sometimes renovating can be physically and mentally exhausting, this is why Blue Build are here to help! At Blue Build we can help with all your renovating requirements. Whether your after a modern feel or a classic design our work is of the highest standards. No job is too big or too small, give us a call us for an obligation free site assessment!
BLUE BUILD
Brand Point-of-Difference
Blue Build has a strong brand point-of-difference that sets us apart from the rest. Unlike many of our competitors, we're dedicated to building fully customised homes to bring your unique vision to life. We focus on the highest quality finishes implemented by specialist tradespeople, and always putting the client first by customising our services to their needs. We work alongside top design teams to turn your dreams into a reality. We are the full-service Sutherland Shire Builders.
Tips for building a new home
1. Get your plan in place
Planning a new home build is the most important part of the construction process. Make sure you plan the details of your new home build meticulously and carefully. What direction will it face on the block of land? What will the layout, design and flow of the rooms look like? What kind of lighting will you use, and how many power points will you install? (just a quick tip, you always need more power points then you think).
You'll also want to start keeping track of design ideas that inspire you, and that you'd like to recreate or mirror. Consider starting a Pinterest board for each room to organise examples of your favourite designs. As well as helping you plan, they'll be a great point of reference to show your builders once construction is underway for your new home build.
2. Choose the correct builder
Whatever builder you pick for your new home build project, you will be working with them for several months or even years. It's essential to make the decision directly at the beginning to eliminate potential issues. There are a few elements you should consider while picking a developer for your new home build including Credentials, References, history only first off, and obviously, the actual cost!
Blue Build is the perfect choice as your new home builders. With over 15 years of experience in the construction and building industry, building incredible custom homes, renovations and extensions in Sydney, we're the builders to call and trust with your new home build.
3. Ask your builder if you can add/change things during the process
Building with a local builder who allows you to suggest and make changes to your new home build project – like move a door, adjust the verandah, position the vanity, is exactly what you need. But often you will hire a building company who doesn't allow you to make changes after you've signed off on your new home build plans, which can be a little trickier. If you're not a visual person, then your planning stage is crucial as you'll need to get everything sorted before the new home build begins. Ensure you're clear on this process before you sign off on anything. Ask your building company how much leeway do you have on minor things when the building process starts on your new home build.
4. Make a non-negotiable list
Unless you have an enormous pit of money, then start out with a list of things you must have in the house. Try and get that in to your initial costing. It's hard to put things back in after your builder has gone to a lot of trouble to start your quote.
5. Understand your agreement
Very carefully read through the contract with your builder to make sure you understand its contents and the parameters of your new home build project. Ensure you're not taken by surprise by what the construction costs cover and what they don't cover.
Ensure it includes a cooling-off period, and that it specifies a timeframe for construction that suits your requirements and needs. Check to see that it includes detailed plans, warranty and insurance information, and pay close attention to the payment schedule.
Finally, it's smart to have a solicitor analyse the contract before you sign. Cross out any blank spaces, and make sure any variations to the contract are well documented and mutually agreed upon.
6. Don't be in a rush to finalise your plans. Get an electrical plan
If you find it difficult to read your plans and you can't visualise every last detail, then it's worth paying an interior designer or colour consultant to guide you through this. Make sure you also get an electrical plan before you build your new home, because some builders need you to have this decided before they start building. It's important you think about the powerpoints! You can never have too many. It's so much harder to put them in after you've built them. I know it may sound like common sense, but you'd be shocked at how many people don't think about this enough. Once your insulation goes in you can forget putting powerpoints in those walls – too hard. Also, make provisions for tv points and power up high.
7. Budget just in case
Regardless of the amount of money you think your new custom built home is probably going to cost, it's more than likely going to cost a lot more. There could be any number of things that are excluded from the quote your builder gives you. Things, for example, finishing and concreting, fences and doors, decking and letterboxes may likewise not be remembered for the gauge, which are known as completing expenses. You'll also need to consider site costs, which are the expenses related with setting up your site for development, and you may likewise need to pay for arranging application charges.
8. Get familiar with using a spreadsheet on your computer
This is the place where you can know exactly how much things would cost for your new home build as you add and change things. You usually get a base price when building, but if you add anything, or take anything off you need to keep a spreadsheet. I used to also email this to my builder every few weeks (I'm a painful person I know!), but I had to make sure we were always on the same page and I did not want to be left with any surprises at the end!
9. Stick to similar fittings throughout your entire home
Try and keep it simple when building your new custom home. Use the same tiles in bathrooms/laundry. Use the same sinks, light fittings and colours. If you are buying things in bulk (like tiles) you'll get them cheaper!
10. Communicate frequently with your builder
All throughout the new home build procedure, discuss frequently with your builder and tradesmen. Get daily reports on the advancement of development, and check-in yourself. It's a wise idea to take photos of the advancement over time so you can document any issues. With correspondence, however, you should have the option to maintain a strategic distance from contentions during the structure procedure. On the off chance that you've obviously spread out the costs that you need to spend together with all minor costs that you see as non-debatable, the development will run a lot smoother. Luckily, Blue Build is known for great communication, so that's one less thing you'll need to worry about when building your new home build in the Sutherland Shire.
11. Have some cash up your sleeve
Shop around for the best prices, locally and online. Ask your builder if you do find a cheaper vanity, or light fitting will he allow you to use that? Once you're in the building groove you'll be on the hunt for bargains. Never ever think your home building project won't go over, because it always finds a way. You may need a couple of extra power points, or the retaining wall is bigger than you thought once the block has been cut, or you see some tiles you'd love to feature. In every house I've built I know a few thousand dollars may be needed for extra things. I keep it to the side to use if I have to. For example, in this house, I wanted huge bathroom mirrors and because mirrors are fitted almost last, I knew I'd be ok to have them because I'd saved a little extra cash to pay for them at the end.
12. Don't back down and settle
Don't let a tradie tell you that you can't have something in your new home build. They like things to run smoothly! You might need to pay extra for it, but if you want herringbone pattern in your tiles then don't settle for anything less! You should communicate this early so everyone is aware of your intentions. If you settle for something you don't really like then you will regret it for as long as you live in that house.
13. Read every last detail of that contract before you sign it
Retaining walls and site cut always confuses people and sometimes the builder won't know what this final cost is until they really get in to it. Most of the time they are right, but you still need to be very aware. Don't forget to check that you get a clothesline, letterbox and you get all your concrete paths! It's also essential to check if you will be charged for every variation you make. Some building companies will also charge an admin fee for every change you make.
Contact the Sutherland Shire home builders now