SYDNEY CUSTOM HOME BUILDERS

SYDNEY CUSTOM HOME BUILDERS BUILDERS
$20,000 FREE INCLUSIONS!
Experience Living at Home with Blue Build's Winter Homemaker Special! Get $20,000 of FREE inclusions for your Bathroom, Kitchen or Laundry when you build a new home with Blue Build! There's no better time to make your house a home by installing your dream family kitchen, bathroom or laundry with help from our FREE inclusions package! After years of making our client's dreams a reality, we understand how these areas can transform any house into a home. Contact us today to learn more!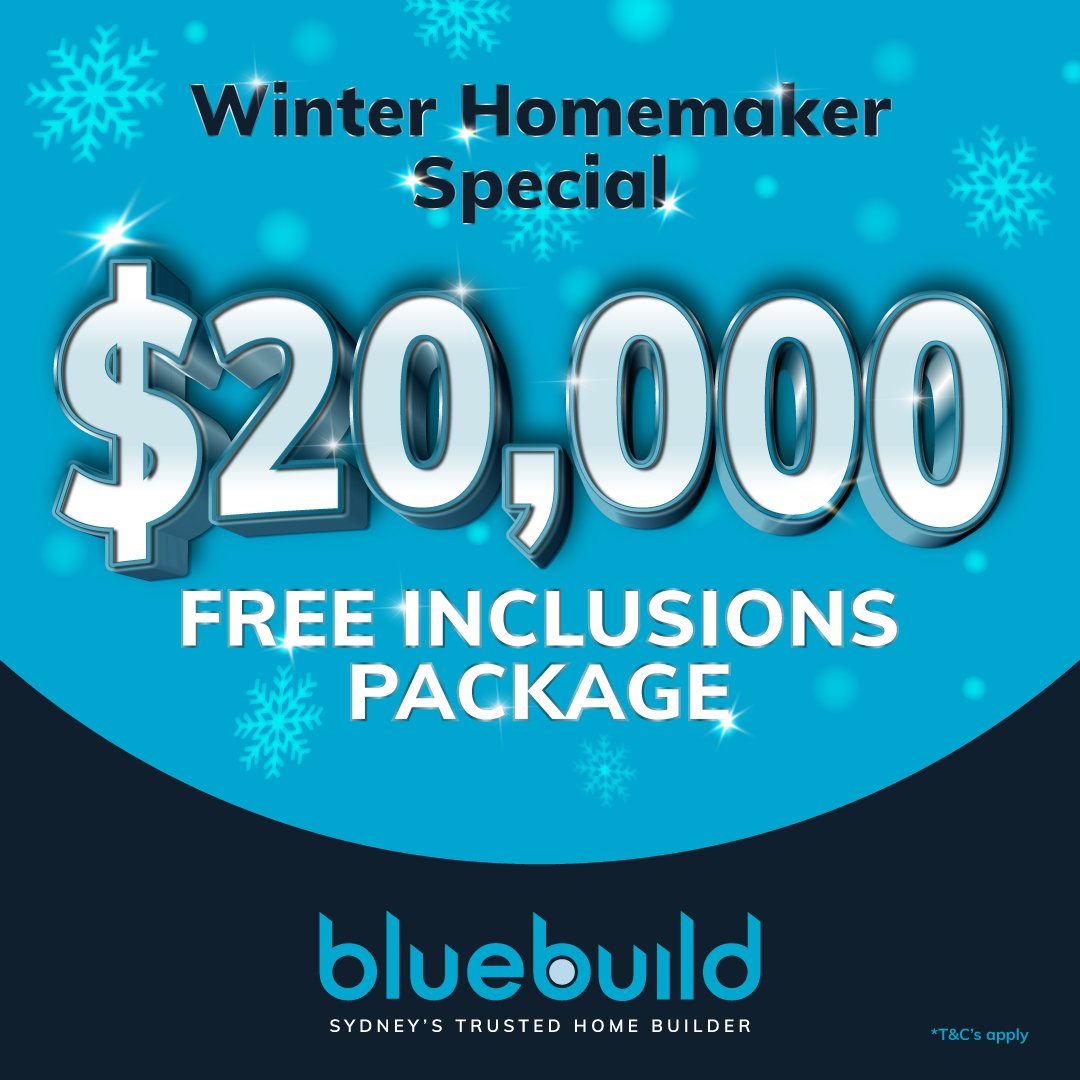 What Can the $20,000 Free Inclusions Package Be Used On?
Kitchen Upgrades, Bathroom Upgrades and Laundry Upgrades
We know your home is for living now, and we also know that your reality is keeping the family home running like clockwork – which means time spent in heavily trafficked areas of the home in the kitchen, laundry and bathroom areas.
Call now for a free consultation on how you can spend your $20,000 Free Inclusions Package.
Blue Build, Your Trusted Custom home Builder
Servicing Sydney With First Class Australian Custom Built Homes.
We've helped transform hundreds of clients' homes with new builds, renovations, extensions, and custom builds. Blue Build offers quality services with full transparency, workmanship and passion, all of which sets us apart from the rest.
Adding an extension? Going up? Does your bathroom or kitchen need an update?
After something a little different? We love a challenge!
Add an extra family room, rumpus room or bedroom
On-Site Inspection And Discussions
Comprehensive And Thorough Management
Quality Construction And Superior Finishes
There's no substitute for designing and building a custom home using your styles, guidelines and decisions. With a Blue Build custom home design you aren't limited to just decorating rooms – your home will have your vision and be a place for you to express yourself in ways you never imagined. It begins with your vision combined with our Sydney custom home builders, who will professionally transform your ideas into reality. This project may have taken you years to begin, so why should you compromise when the ultimate goal is to create a custom home tailored especially around you? 
BUILD EXPERIENCE
Emma & Paul
"From the beginning, Ryan made us feel comfortable and helped us to achieve our dream extension."
BUILD EXPERIENCE
Sheree & Grant
"We were thrilled we found a builder who was so responsive to what we needed."
Why should you
Choose Blue Build for your home extensions and additions?
Blue Build provides you with honest, upfront advice about the viability of extending your home. We take into consideration every aspect of your property and help you make the right choice for yourself and your family.
With every project, we guarantee to deliver long-lasting and cost-effective results. Your home will not only provide years of satisfaction but increase in value and provide a more spacious living.
$20,000 Winter Homemaker Special Free Inclusions Package Offer
Blue Build's $20,000 Winter Homemake Special Offer Free Inclusions Package Offer runs from 01 July 2021 to 30 September 2021 (the Promotion Period).
It comprises of up to $20,000 of free inclusions on either the bathroom, kitchen and laundry when you build a new home with Blue Build.
The Winter Homemaker Special Offer is not transferable or exchangeable and cannot be taken as cash. For detailed information regarding this promotion and home pricing, please call or email Blue Build for a comprehensive guide on what is included. There are limitations to what is included in the Winter Homemaker Special Free Inclusions Package. All point of sale and marketing material are for illustrative purposes only. Blue Build accepts no liability for any loss which may be suffered by any person who relies either wholly or in part upon the information presented. Photographs and illustrations in this brochure are intended to be a visual aid only. Blue Build reserves the right to change nominated suppliers without notice. These promotional offers will not be exchanged for goods of similar value. No credit will be given when individual items within the promotions are not available due to design constraints. Please refer to the Blue Build Tender for specific details of the inclusions and exclusions for your project. Blue Build's usual building contract conditions apply. Copyright © July 2021.