During the summer months of the year, many of us spend time entertaining guests particularly over Christmas and well into the warmer months. Wouldn't it be ideal to maximise the size and liveability of your living space when you play host to special events, barbecues, birthdays and more? Blue Build specialise in building custom homes, renovations and extensions in Sydney, and can help you achieve your dream of the perfect indoor outdoor space.
If you are currently in the process of planning your new home or home renovation, there is no better time to maximise on the flow and layout of your space to create an indoor outdoor entertainer's dream!
Our Top Tips for Perfecting Indoor Outdoor Living
Combine The Areas Of The Home
Combine your indoor open floor plan with an adjacent outdoor/alfresco space, this is a functional and practical way to increase the size of your living space.
Adding an outdoor living area to the home is like adding an extra room to the house, made possible with the addition of a high quality awning or shade system from a trusted company such as Ozsun Shade Systems.
Large Opening Access
Invest in a large opening/access between the inside and out spaces using bi-folding doors or stackable sliding doors.
Shaded Area
Create a shaded area.
Creating an area of shade is an absolute essential in your backyard. Living in Australia, we are both blessed and cursed with our bright, warm sun. To design a functional and comfortable outdoor living area, there needs to be a substantial amount of shaded area to protect yourself and your family from harsh sunlight, annoying glare and create a cool area to sit and relax in.
Be sure to consult a professional such as Ozsun Shade Systems before making any decisions on the best shading system to invest in.
Consistency
Keep both floor levels from inside to out consistent and consider using the same or a flooring material the compliments the inside to connect the space.
The key is to remove physical and/or visual barriers for a seamless flow that connects the inside to the outside of the house.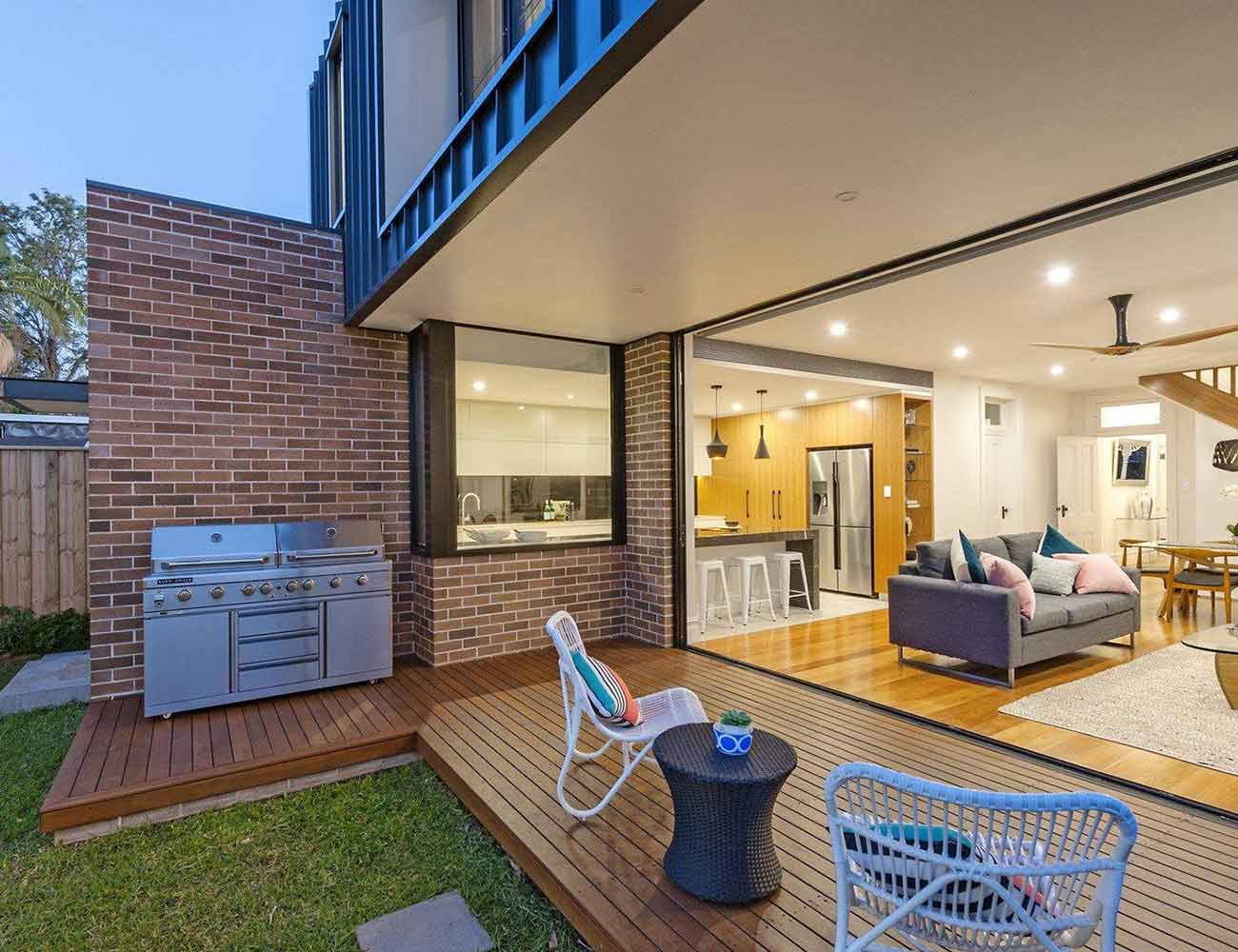 Continue Roofline Ceiling Height
Continuing the roofline ceiling height to your outdoor area provides the seamless connection that is sought after.
Alternatively, a combination of covered and uncovered space is appealing depending on the home's orientation.
If in a location that falls victim to particularly harsh sun, a covering from Ozsun Shade Systems may need to be considered to ensure your family and guests stay safe and protected from the elements all year round.
Added Extras
Consider appliances, ambience and luxuries for a comfortable transition to outside.
Heating/cooling.
Outdoor kitchen or joinery.
Built in barbeque or wood fire pizza oven.
Lighting.
All adding functionality and value to your outdoor area, ideal for both living and if the house was to hit the market in the future.
Engage a Professional
Always engage a professional builder like Blue Build. An accredited builder will ensure your home is completed to the national regulations and standards, as well as comply with the local council and provide the highest quality building services available.
A designer will customise the space to suit your specific lifestyle and requirements appropriately for maximum enjoyment and benefit at the completion of the build.
With the Australian lifestyle and smaller land sizes in mind, multi-purpose and functional indoor outdoor living areas are becoming an integral part of new home design. Smart planning and layout is essential to your lifestyle and investment in the long run.
If you want to ensure your outdoor living space is perfect, simply design a checklist. Think about these questions before you put pen to paper and initiate the building process:
What will the area be used for most? Is it for me-time, family-time or entertaining?
How will the weather conditions affect maintenance?
Where in the backyard will the sun be the harshest?
How often will you use it be used in winter?
What part of the day will you use it the most – morning, afternoon or evening?
This checklist will help you plan for longevity in your materials and furnishings, as well as plan your shelter and shade locations. But more importantly, thinking these questions through will provide you with a proper visualisation of the purpose of your outdoor living area.
---
Your new home journey starts with Blue Build
At Blue Build we love making our clients dreams a reality and client satisfaction is our purpose. Whether you're after a double-storey family home, a spacious open plan for entertaining or a couples private retreat, we've got you sorted. We understand that building or renovating a home can seem overwhelming, however, that's why we're here to make it easy by guiding you through the process and tailoring it along the way to suit your wants and needs. Give Blue Build a call today or get in touch via our contact form.